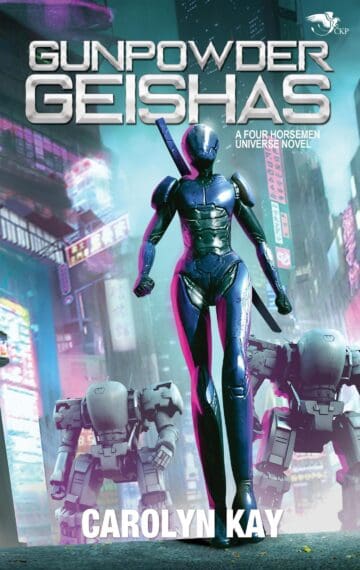 $5.99
Buy Now
Read A Sample
See The Reviews
See The Full Series
Available in:

Kindle, Kindle Unlimited, Print

Pages:

280

Published:

October 3, 2023
"Vibrant characters in a high action adventure. Should appeal to both fans of Military SF and anime." — Jane Lindskold, New York Times bestselling author.
"Swift as hares, fierce as wolves!"
Born into the Scarlet Rabbit's mercenary company, Sakura Ike learned the art of combat before she learned how to serve tea as a Geisha. For her, fighting in a CASPer mech suit is as natural as breathing.
The job was simple: get down to the planet Wh'ton, retrieve the box, come home, and get paid. Easy. But then tragedy struck, and the only family she had left was her aunt Katsume and a mother that never loved her.
There is no time to grieve; Sakura must find the answers before the trail goes cold, and she loses her chance at revenge. But she can't do it alone. Together with her best friend Jeni, the shell-shocked Newsom, the mysterious Jung, and the alien warrior Taka, they must band together to hunt down the Rabbits' betrayer. The good news is Katsume has built brand new cyber battlesuits for them. The bad news is a fledgling Yakuza crime family wants to take them out before they fulfill their ultimate mission.
Will the Gunpowder Geishas get the revenge they seek, or will they become yet another failed Phoenix Initiative merc company?
---
Other Books You Might Like
---
Want to keep up with Chris Kennedy Publishing?
Subscribe to the mailing list!
---