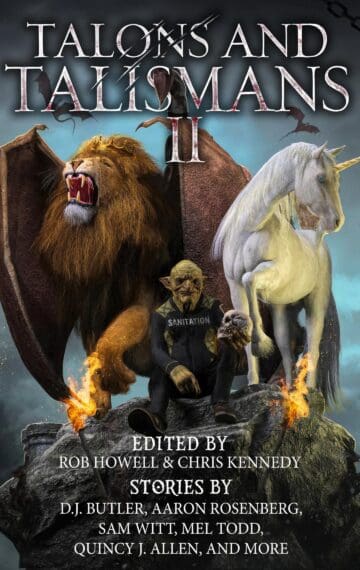 $4.99
Buy Now
Read A Sample
See The Reviews
See The Full Series
Available in:

Kindle, Kindle Unlimited, Print

Pages:

475

Published:

November 4, 2021
Hunters and prey. Knights and quests. Wizards and mysteries.
Mix all that with creatures of legend and myth, and you get an anthology with fifteen great stories.
What happens to a Manticore when he gets old and can no longer fulfill his responsibilities? What if the Goblins can't pick up the trash in the City? Who will stay and guard the gates between worlds?
But wait, there's more! There are eight exciting stories from the Eldros Legacy, a new shared setting coming soon. Hunters will find more than they expected, kings are betrayed, and who will stand up to the Engraver of Bones?
With stories by:
D.J. Butler
Todd Fahnestock
Quincy J. Allen
Mel Todd
Aaron Rosenberg
Jamie Ibson
Mark Stallings
Marie Whittaker
Rob Howell
C.M. DeMott
Elowyn Fahnestock
C.A. Farrell
Michael Gants
Richard Hailey
Sam Witt