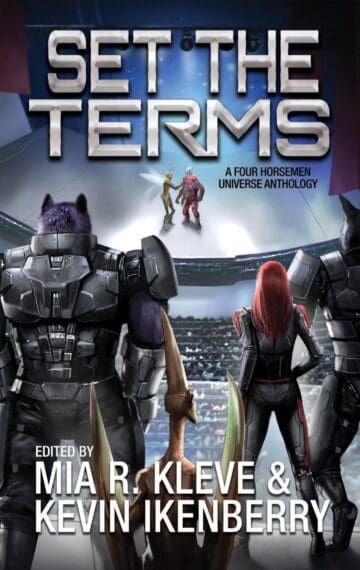 $4.99
Buy Now!
Read A Sample
See The Reviews
See The Full Series
Narrator:

James Anderson Foster

Available in:

Kindle, Kindle Unlimited, Audiobook, Hardcopy

Published:

May 26, 2020
Peacemakers. The Galactic Union's most capable enforcers and resolute negotiators, their name alone elicits fear and awe among the Union's citizenry.
Being a Peacemaker isn't easy. They're charged with setting the terms and doing anything which needs to be done—even if it personally costs them everything. They must learn to honor the threat to all life, and, in the end, they must stand or fall, based on their own convictions.
Welcome back to the Four Horsemen universe, where only a willingness to fight and die for money separates Humans from the majority of the other races. Edited by Mia R. Kleve and bestselling author Kevin Ikenberry, "Set the Terms" includes fourteen all-new Peacemaker-themed stories in the Four Horsemen universe by a variety of bestselling authors—and some you may not have heard of…yet.
From pigs flying to cats landing on their feet, "Set the Terms" shows Peacemakers at work from the origin of the guild to present day. Journey with a Lumar Peacemaker as he tries to complete his first mission and watch as a Phidae Peacemaker tries to complete his final one. They will have to use their wits as well as their weapons if they hope to remain standing at the end of the day.
Are you ready to set the terms? If so, then step inside!
With stories by:
Mark Wandrey
Chris Kennedy
William Alan Webb
Quincy J. Allen
Kevin Steverson
Marisa Wolf
Jon R. Osborne
Terry Mixon
Casey Moores
Jamie Ibson
Kevin Ikenberry & Peter J. Aldin
Matt Novotny
Marie Whittaker
Mark Stallings
---
Other Books You Might Like
---
---
Want to keep up with the Four Horsemen Universe?
Subscribe to the mailing list!
---