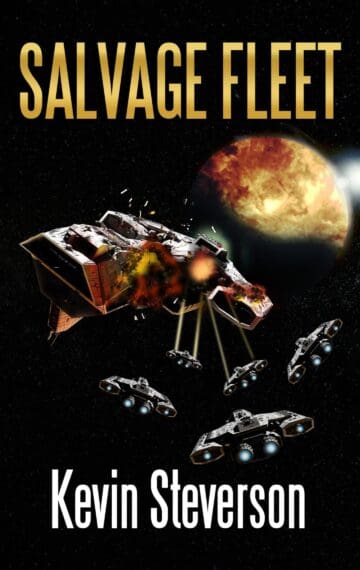 $4.99
Buy Now!
Read A Sample
See The Reviews
See The Full Series
Narrator:

KC Johnston

Available in:

Kindle, Kindle Unlimited, Audiobook, Hardcopy

Published:

December 25, 2018
They couldn't afford a ship, much less the cost of registering one…and now they need an entire fleet!
Harmon Tomeral, along with friends Clip, Zerith, and the artificial intelligence Jayneen, were heroes. Having brought back the battlecruiser Salvage Title from an unknown system, they defeated the alien Squilla and saved their home system of Tretrayon, although they lost the computer holding Jayneen in the battle.
But the Squilla are coming back.
And, not only are they coming, they have also recruited the alien Krift to help them destroy the Tretrayon system. Their fleet is enormous and will easily defeat the few remaining ships Harmon has to defend the system. Tomeral and Associates are going to need a fleet of their own!
In order to get them, though, they need an operational Jayneen, so they will have to go back to her system and find another computer for her to inhabit. If they can. Then they will have to find and convert ships in her home system, hire mercenaries, and buy more ships—none of which Harmon knows anything about—before the Squilla lay waste to their system.
The Squilla are coming, and they're prepared to do whatever it takes to destroy the Tretrayon System, Salvage Title, and, most importantly, Harmon Tomeral! And his time is quickly running out…
---
Other Books You Might Like
---
---
Want to keep up with Chris Kennedy Publishing?
Subscribe to the mailing list!
---