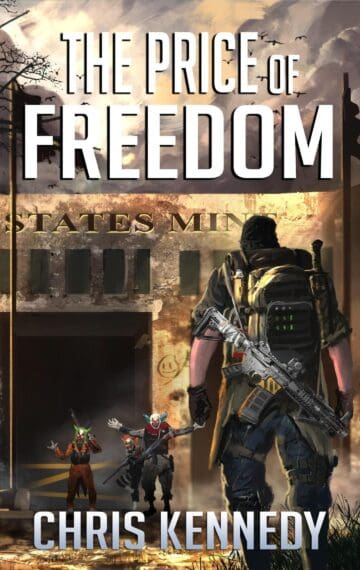 $4.99
Buy Now!
Read A Sample
See The Reviews
See The Full Series
Narrator:

Mark Boyett

Available in:

Kindle, Kindle Unlimited, Audiobook, Hardcopy
Freedom isn't free. Especially when the Company has a hold on your mind.
It was a normal Sunday morning at Teledyne Industries. Until the missiles started flying, and Joe Rinardi had 10 minutes to get out of the nuclear blast zone.
A Teledyne Specialist, he was one of the best, and equally adept at escape and evasion as he was at killing Obsidian Agents. When the bombs started dropping, though, he was given one final mission that he had to complete—travel to Philadelphia and kill the Obsidian managers that Teledyne ran out of missiles for. After that, he could be free.
But in a post-apocalyptic world, traveling across country is a little more challenging than just going to the nearest airport and hopping a jet from Portland to Philly. Rinardi will have to figure out how to arm himself and go across the continent in a terrifying new world. Cannibals, Geno Freaks, and the only Specialist to ever beat him stand in his way.
He's never failed to complete a mission in his career, though, and his freedom rides on the successful completion of this one. Can Rinardi overcome the obstacles in his path, or will he become just another casualty of this Fallen World?
---
Other Books You Might Like
---
---
Want to keep up with Chris Kennedy Publishing?
Subscribe to the mailing list!
---