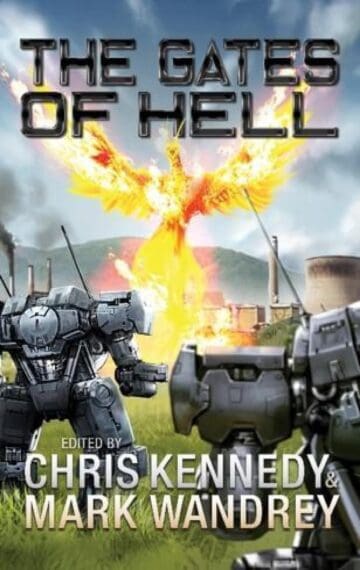 $4.99
Buy Now!
Read A Sample
See The Reviews
See The Full Series
Narrator:

Daniel Wisniewski

Available in:

Kindle, Kindle Unlimited, Audiobook, Print

Pages:

421

Duration:

16 hours and 36 minutes

Published:

April 28, 2020
15 Awesome Authors. 15 Outstanding Stories. One Amazing Universe.
From the outside, The Lyon's Den doesn't look like much; there isn't even a sign. But Mercs of all species know that if you head to southwest Houston, near the Starport, there's a particular run-down strip mall that looks like it's been abandoned for years. The glass door second from the south end of the strip is plastered over on the inside with blue paper, and the faint golden outline of a rampant lion is the only clue.
The door is locked, of course, and beyond the door is nothing but a darkened hallway with a downward slope and a slight curve to it. Once you follow this curve far enough, you are greeted by two very large, very well-armed Lumar. "Welcome to the Lyon's Den," the larger of the two says without a translator, and without a trace of an alien accent. "You know the rules?"
Welcome back to the Four Horsemen universe, where only a willingness to fight and die for money separates Humans from the majority of the other races. Edited by bestselling authors and universe creators Mark Wandrey and Chris Kennedy, "The Gates of Hell: More Tales from the Lyon's Den" includes fifteen all-new stories in the Four Horsemen universe by a variety of bestselling authors—and some you may not have heard of…yet. Want to know why Asbaran Solutions changed its logo or where Roland's head went? Better learn the rules to the Lyon's Den…and then step inside!
Inside, you'll find:
Bayonets by Kacey Ezell
The Price Of Victory by Zane Voss
The Bitter End by Mark Wandrey
Freedom Of Maneuver by Kevin Ikenberry and Casey Moores
Jaws Of Defeat by Jon R. Osborne
They Called Him Pops by Kevin Steverson
Bushwhacked! By Terry Mixon
First Steps by Richard Alan Chandler
Unnatural Selection by Dan Bridgwater
Long Live The Huma by Chris Kennedy
Fire From Fire Quickened by Rob Howell
Roland The Headless Mech Driver by William Alan Webb
The Mushroom Farm by Casey Moores
No Good Deed by Alex Rath
The Thelosi Gambit by Quincy J. Allen
---
Other Books You Might Like
---
---
Want to keep up with the Four Horsemen Universe?
Subscribe to the mailing list!
---