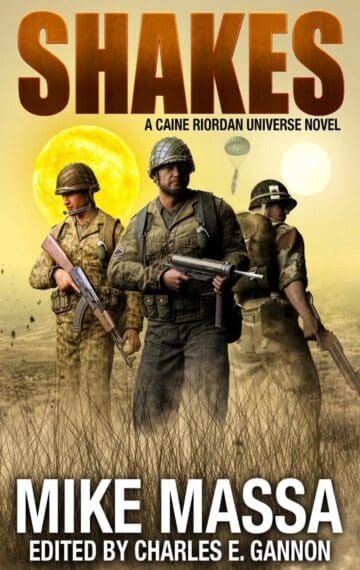 First In Series
$2.99
Buy Now!
Read A Sample
See The Reviews
See The Full Series
Available in:

Kindle, Kindle Unlimited, Hardcopy

Published:

March 16, 2020
Taken from their planet and their century, they are…the Lost Soldiers.
If the hijacked Twentieth Century troops known as Murphy's Lawless are going to ever make it home, they need a base. Their first objective is to get a toehold on R'Bak: a world in a binary system where the close approach of the stars means huge changes in habitability. Lieutenant Harold Tapper, a SEAL veteran of Panama and Somalia, and Sergeant First Class Marco Rodriguez, a Vietnam-era "LURP," are the first to make planet-fall. Though they earned their stripes in bushfire wars a generation apart, they learned the same lesson: you gotta be careful about who you trust.
That's a problem on R'Bak, since the Lost Soldiers were marooned just as the two stars draw close enough for the other system to begin raiding the locals. Worse, Tapper and Rodriguez have discovered their space-based allies are on the losing side, and the only help they're offering is a one-way trip to the surface and the loan of the scion of a major family whose primary job is to report on Tapper's success or failure.
Once dirtside, the SEAL must convince the skeptical tribes of R'Bak's arid wastelands to overthrow the more technically-advanced J'Stull Satrapy, lackeys of the soon-to-arrive raiders from the other system. If he succeeds, Tapper can plan the grisly business of assaulting—and seizing the vehicles of—a superior, mechanized force. All while keeping the allied factions from killing him, each other, or both.
An impossible set of objectives—but if Tapper can't achieve them all, the future of Murphy's Lawless isn't merely bleak: it's nonexistent.
---
What Others Are Saying
---
"You should already have Chuck Gannon on your shelves. If you don't have him there, rectify your oversight immediately!"
Chris Weber
"Raising Caine unveils a lot of thought-provoking ideas but ultimately this is a space opera adventure. There are space battles, daring emergency landings, desperate quests, hand-to-hand combat, and double-and-triple crosses. It's an engrossing read…an intergalactic thrill-ride."
Fantasy and Science Fiction Book and Audiobook Reviews
---
Other Books You Might Like
---
---
Want to keep up with Chris Kennedy Publishing?
Subscribe to the mailing list!
---
---