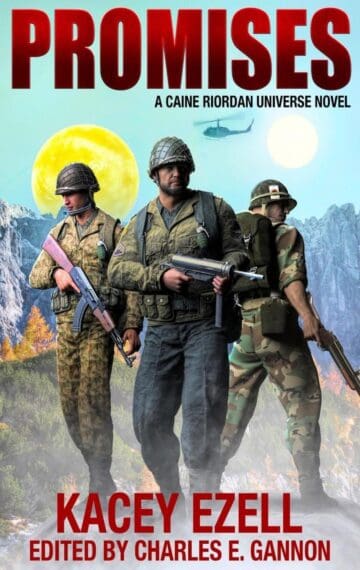 $2.99
Buy Now!
Read A Sample
See The Reviews
See The Full Series
Editor:

Charles E. Gannon

Available in:

Kindle, Kindle Unlimited, Hardcopy

Published:

June 14, 2020
Taken from their planet and their century, they are…the Lost Soldiers.
Some of the hijacked Twentieth Century troops known as the Lost Soldiers have made planetfall on R'Bak and are working to establish their base there. If they are to be successful, though, Murphy knows they will need the continued support and cooperation of the SpinDogs and, more importantly, their trust. One way to build a bridge to them is to provide the SpinDogs with something they don't have—rotary wing aviation.
Captain Mara "Bruce" Lee was a Huey helicopter pilot back on Earth, and was often called in to help foreign students learn to fly the venerable Huey. But when Ozendi, her first SpinDog student, reminds her strikingly of her ex-husband, her skills and professionalism will be tested as they war against her most primal aspect—her heart.
Murphy is counting on Bruce to train the pilot and develop a helicopter pilot school for the SpinDogs, and she can't afford to fall in love with her student. As he grows closer and closer to her, though, she can't see any way for it not to happen. After all, is it so wrong to want a little love when you're so far from everything you've ever known?
But Ozendi is her student and forbidden to her, and she can't afford to destroy the Lost Soldiers' relations with the SpinDogs. If she breaks their trust, it will be all over for both her and every other time-stranded soldier in Murphy's Lawless.
---
Other Books You Might Like
---
---
Want to keep up with Chris Kennedy Publishing?
Subscribe to the mailing list!
---