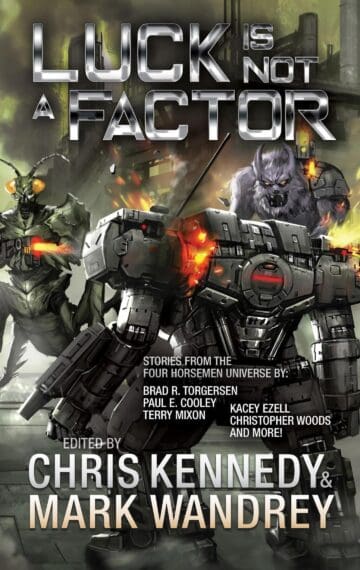 $4.99
Buy Now!
Read A Sample
See The Reviews
See The Full Series
Narrator:

James Patrick Cronin

Available in:

Kindle, Kindle Unlimited, Audiobook, Hardcopy

Published:

October 30, 2018
Nineteen outstanding authors. Nineteen extraordinary stories. One bestselling universe.
It's the Twenty-Second Century. The galaxy has opened up to humanity as a hyperactive beehive of stargates and new technologies, and we suddenly find ourselves in a vast playground of different races, environments, and cultures. There's just one catch: we are pretty much at the bottom of the food chain.
What do you do when the odds are stacked against you? Mercs plan, strategize, and sometimes even scheme, but there is one thing they all believe—luck is never a factor.
Unless it is.
Enter the Four Horsemen universe, where only a willingness to fight and die for money separates Humans from the majority of the other races. Edited by bestselling authors and universe creators Chris Kennedy and Mark Wandrey, "Luck is Not a Factor" includes all-new stories in the Four Horsemen universe by a variety of bestselling authors—and some you may not have heard of…yet. The nineteen authors take on various aspects of the universe, giving you additional insight into a galaxy that isn't at war…but definitely isn't at peace. There's only one thing for sure—anything's possible for a fistful of credits!
Inside, you'll find:
Preface by Chris Kennedy
"Luck is Not a Factor" by Mark Wandrey
"Jury-Rigged" by Paul E. Cooley
"Hunting Trip" by Jon R. Osborne
"To Sell Your Cloak" by Joseph Capdepon, II
"Sattara" by Christopher Woods
"Test and Devaluation" by Thomas A. Mays
"The Humans Inside" by Jamie Ibson
"A Sword for Striking" by Rob Howell
"Confluence" by Lee Dunning
"Hell Hath No Fury" by Brad R. Torgersen
"All's Fair in Love and Mercs" by Jon Del Arroz
"The Price of Devotion" by Michael Ciaravella
"A Simple Recon Mission" by Philip Wohlrab
"Three Gladiators" by T. Allen Diaz
"Target of Opportunity" by Terry Maggert
"Scooping the Competition" by Terry Mixon
"A Token of Affection" by Kacey Ezell
"To Save the Earth" by Chris Kennedy
"CASPer's Widow: The Last Goodbye" by JR Handley
---
Other Books You Might Like
---
---
Want to keep up with the Four Horsemen Universe?
Subscribe to the mailing list!
---