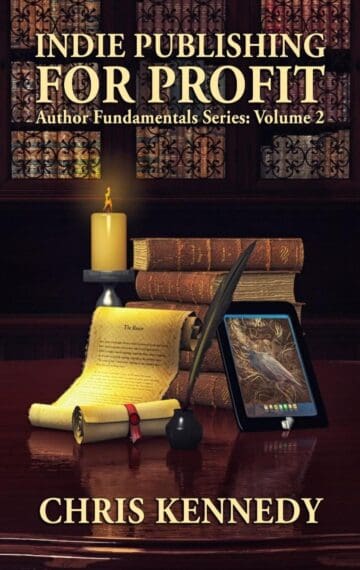 $6.99
Buy Now!
Read A Sample
See The Reviews
See The Full Series
Available in:

Kindle, Kindle Unlimited, Hardcopy

Published:

October 23, 2020
Do you have a book in your head?
Statistics show that 81% of people have a story they want to write, but very few actually do it. For most, this is because they either don't know how to enter the publishing process, or they feel their writing isn't good enough. Indie Publishing for Profit was designed to help you overcome both of these fears by giving you detailed publishing guidance, while simultaneously helping you become a better writer.
Produced by veteran independent author and indie publisher Chris Kennedy, Indie Publishing for Profit details the plan he used to sell almost 40,000 copies of his books in his first year, after starting with nothing but a story. Not only will readers learn how to produce ebooks, but also print books, audio books, and more!
Indie Publishing for Profit is the first book that gives authors all of the tips required for success. It not only shows how to design business and marketing plans that will help them be successful in the short term, but also how to improve their writing skills for long term success. It does so without requiring large outlays of cash, giving new authors a two-pronged strategy for success that anyone can follow.
It's time to get your book into the stores!
Inside, you'll find:
Unit 1 – Indie Publishing as a Career
Chapter 1 – Why Indie Publishing?
Chapter 2 – The Four Great Lies of Indie Publishing
Unit 2 – Author as Business Owner
Chapter 3 – The Author as a Business Owner
Chapter 4 – Getting Started with Crowd Funding
Unit 3 – Me? A Marketer?
Chapter 5 – Creating Your Author Platform
Chapter 6 – 5 Places You Have to Be; 5 Things You Have to Do
Chapter 7 – The Blog/Website
Chapter 8 – How to Create a WordPress Blog
Chapter 9 – Why You Should Blog
Chapter 10 – 8 Things Not to Do on Your Blog
Chapter 11 – Facebook and Engagement
Chapter 12 – Navigating Twitter
Chapter 13 – Using Pinterest to Promote Your Business
Unit 4 – Writing a Spectacular Book
Chapter 14 – What Should You Be Writing?
Chapter 15 – The First Chapter
Chapter 16 – How Not to Look Like a Newbie
Chapter 17 – Back Story and How to Weave It
Chapter 18 – Character and Location Description
Chapter 19 – On Adverbs
Chapter 20 – Show, Don't Tell
Unit 5 – Making Your Book Better
Chapter 21 – Fact and Fiction about the Editing of Books
Chapter 22 – You Can Do Better Than These 10 "Bad" "Things"
Chapter 23 – Tightening Up Your Writing
Chapter 24 – The Final Checks
Unit 6 – Covering Your Gem
Chapter 25 – Book Covers and Knowing What Sells
Chapter 26 – Commissioning Your Cover: Upwork
Chapter 27 – Commissioning Your Cover: 99Designs
Unit 7 – Publishing Your Ebook
Chapter 28 – ISBN and the ASIN
Chapter 29 – The Blurb
Chapter 30 – What Price, Perfection?
Chapter 31 – Publishing your Ebook
Chapter 32 – Choosing the Right Categories and Keywords
Chapter 33 – Optimizing Amazon: Literary Life or Death
Unit 8 – Other Formats
Chapter 34 – Beyond the Digital World
Chapter 35 – Preparing your Print Book for Publishing
Chapter 36 – Print Books: KDP vs. Ingram Spark
Unit 9 – Increasing Your Reach
Chapter 37 – 5 Marketing Notes to Help You Refocus
Chapter 38 – Networking and Getting Noticed
Chapter 39 – Book Reviews and Other Things That Suck
Chapter 40 – 8 Other Ways to Promote Your Book
Unit 10 – What You Must Do Next
Chapter 41 – The Power of Writing More
Chapter 42 – You Must Improve!
Chapter 43 – 5 Reasons Why Your Book Isn't Selling
Chapter 44 – Final Words
---
Want to keep up with Chris Kennedy Publishing?
Subscribe to the mailing list!
---