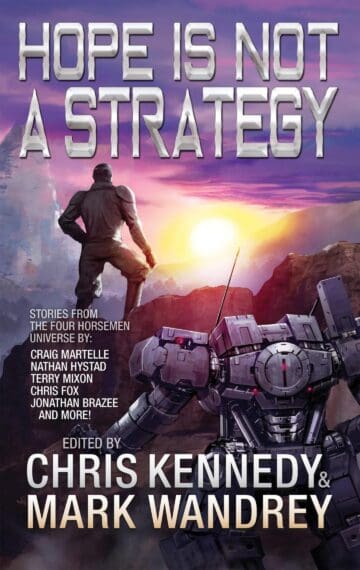 $4.99
Buy Now!
Read A Sample
See The Reviews
See The Full Series
Narrator:

James Patrick Cronin

Available in:

Kindle, Kindle Unlimited, Audiobook, Hardcopy

Published:

February 26, 2019
Fifteen of the best Indie authors. Fifteen extraordinary stories. One bestselling universe.
It's the Twenty-Second Century. The galaxy has opened up to humanity as a hyperactive beehive of stargates and new technologies, and we suddenly find ourselves in a vast playground of different races, environments, and cultures. There's just one catch: we are pretty much at the bottom of the food chain, and there's only one way for humanity to move up—by becoming mercenaries.
In every mercenary's life, though, there comes a time when things go wrong and even the best laid plans go awry. When they do, though, the best mercs fall back and work out new plans, and you can bet on one thing—hope is not their strategy. Whether you're a kid looking to get off your planet, or an unarmed merc facing an overwhelming force, or even the sole survivor of a pirate attack, there's always an edge—and it's up to the merc to find and exploit it!
Edited by bestselling authors and universe creators Chris Kennedy and Mark Wandrey, "Hope is Not a Strategy" includes all-new stories in the Four Horsemen universe by some of the bestselling Indie authors currently in the business. These authors take on various aspects of the universe, giving you additional insight into a galaxy that isn't at war…but definitely isn't at peace. There's only one thing for sure in the 4HU—anything's possible…for a fistful of credits!
Inside, you'll find
Preface by Chris Kennedy
Golden Ticket by Jonathan P. Brazee
The Tide Changes by Craig Martelle
Something You Are Not by Kevin Steverson
Hijacked! by Terry Mixon
The Wagner Method by Josh Hayes
Paying the Price by Scott Moon
Without a Shot by Chris Fox
Raid by Mark Wandrey
Second Chances by Kevin McLaughlin
The Problem of the Qualis by Brian Niemeier
Eye on the Prize by Nathan Hystad
Earworm by Robert E. Hampson
A Guilded Affair by Chris Kennedy
Sunset by A.K. DuBoff
Survivor by Kacey Ezell
---
Other Books You Might Like
---
---
Want to keep up with the Four Horsemen Universe?
Subscribe to the mailing list!
---