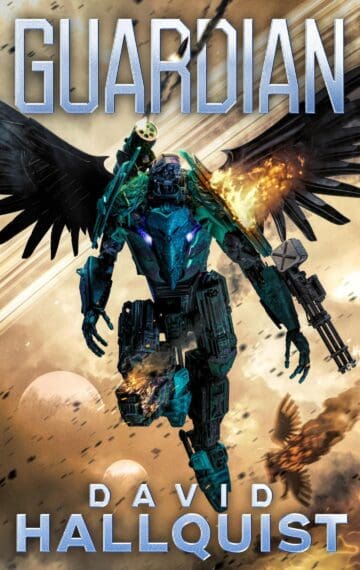 $4.99
Buy Now!
Read A Sample
See The Reviews
See The Full Series
Available in:

Kindle, Kindle Unlimited, Hardcopy

Published:

March 23, 2021
The Solar System is at war!
A war between the planets would be unthinkably destructive, yet Jovian Republic Navy pilot Michael Vance is recalled to his host carrier for just that reason.
The Jovian Republic Navy relies on an elite corps of warriors to fight their battles anywhere in the air, on land, or in space. They're known by a simple name: Angels. These cybernetically enhanced warriors pilot the giant Guardian exo-frames that are able to fight in nearly any environment. In their prime, they were the best…but that day is long past. Now the old Guardian frames are obsolete, and Michael's flight goes to war already down one member due to a training accident.
Even worse, the Angels will have to fight the best forces the Solar System has to offer. The Saturnine Union seeks to dominate the system and transform everyone into cybernetic drones under the control of the Saturn Undermind. Utterly ruthless, relentless, and with terrifying technology, the other planets can't stop Saturn…only Jupiter can. If it's lucky.
The Angels are on the way…but will they be enough?
---
Other Books You Might Like
---
---
Want to keep up with Chris Kennedy Publishing?
Subscribe to the mailing list!
---