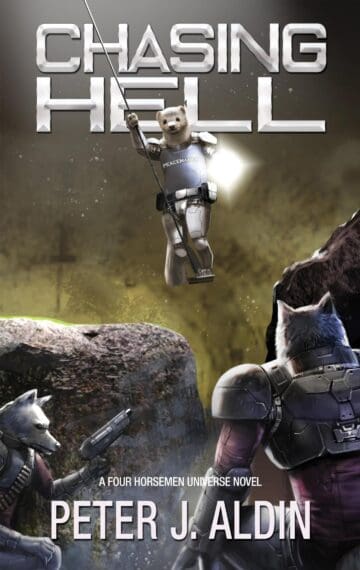 $4.99
Buy Now!
Read A Sample
See The Reviews
See The Full Series
Available in:

Kindle, Kindle Unlimited, Hardcopy

Published:

March 30, 2021
Peacemakers. The Galactic Union's most capable enforcers, they elicit fear and awe among the Union's citizenry. At least some of them do.
As the Guild War spreads, two rival Zuul mercenary commanders find themselves not only at odds with each other, but with a duplicitous corporation with sinister intentions. After a disastrous mission where the majority of her Hellchasers company was destroyed, Renhahnu accepts a mission bankrolled by the Dream World Consortium to recover New Joy City on the planet Arduna. She knows better than to ask questions, especially with so many credits on the line, and—after learning that her rival Marrek's company failed to hold the city against another mercenary threat—she's all in.
Marrek and his lone surviving pack mate escaped from Arduna with a group of sick Altar colonists. But when opportunity knocks, they answer, even though it means a return to Arduna to serve as low-paid security guards. When he learns that the Hellchasers have arrived, Marrek takes matters into his own hands. Blaming Renhahnu for his troubles, he wants blood, and he'll stop at nothing to get it.
The volatile situation on Arduna has also attracted the attention of the Peacemaker Guild, but instead of a seasoned Peacemaker or Enforcer, a Zuparti Peacemaker Candidate must conquer his natural timidity and become what the embattled citizens of New Joy City need, while discovering the awful truth about Dream World.
Under New Joy City, these three storylines will converge…and heroes will be born.
---
Other Books You Might Like
---
---
Want to keep up with Chris Kennedy Publishing?
Subscribe to the mailing list!
---